As the springtime approaches, our agents are busy helping local homeowners to prepare for selling their homes in the coming months. While a great agent (like those at MRE | AP) will take care of all the nitty gritty details, you as a homeowner still may feel like you have a mountain of tasks to get through. To help lighten the load, we asked some of our agents for their top tips on prepping your home for sale for the spring market. Here are their thoughts:
First, freshen & edge mulch beds. When a buyer pulls up, they will instantly see curb appeal! Opt for dark brown or black mulch if your budget allows. Add some flowers for a pop of color. Secondly, when prospective buyers are standing in front of your home, waiting for their REALTOR® to open the lockbox, a clean look results in a positive first impression, rather than the existence of cobwebs, pollen and dead bugs, so make time for power washing. Lastly, spend some time window cleaning. It is amazing how much sunnier the home feels inside! Pros can clean out-of-reach places, such as shelves and chandeliers, so consider hiring professional cleaners to aid your efforts.

I can think of no single better thing for a homeowner to do to get the house ready than to de-clutter! Just like a dating profile, your house only has a few seconds to make a first impression. Your potential buyers are going to swipe right or left depending on the first pictures of your house they see online. Not sure of what is cluttering your house? Use the acronym CLUTTER:

Colors that distract – patterns and prints; lots of pictures and photos; ecclectic furniture items: all these will make your photos look too busy and will turn off your buyer.

L

ighting that distracts – Change bulbs so all lighting is the same color and all bulbs are working. Change out dusty, outdated shades and open all curtains.



Ugly or out-of-date furniture – Less furniture is always better.

Things on all horizontal surfaces – Go through the house and box up or toss 50% of everything that's on a horizontal surface of any kind (shelf, table, cabinet, floor, etc.)

Things that cover too much of the flooring – Your house will look bigger if you remove area rugs, extra side tables, magazine holders… anything that isn't 100% necessary.

Excess stuff in general – Collections are your enemy right now. Start packing.

Rooms that have more than one purpose – Pack that stuff away for the next house and make sure all your rooms photograph just like what they were designed to be. (Hint: bedrooms should look like bedrooms.)

In my opinion the saying of "Spring Cleaning" is better done in the winter and save the lovely early spring weather for fixing the flower beds. However, take a good look around the outside and make sure there is nothing that may cause a bigger problem when the weather gets cold or the snow comes. Make sure the gutters were cleaned after falling leaves and that there are no large trees with big branches too close to the house. Then get down to business inside. Finish any little projects that have been lingering around the house and declutter. Clean out the closets and cupboards. Do all the inside deep cleaning and any needed updates while the weather is too cold to enjoy outside. It is also a great time of year to give away gently used items to local charities and organizations. The closet of coats that someone might wear some day can be worn by someone that needs them today. It a lot easier to clean out spaces and feel good doing it when you know you are helping someone else!

I'd say besides the normal updates in kitchen, bathrooms, and flooring, curb appeal should be a seller's focus. It makes buyers believe the seller takes pride in their home. In the spring when everything is in bloom, it will have massive payoff. Buyers will be impacted from the moment they pull up to the property, starting their showing off with a positive impression.

We hope you find these tips helpful! If you're still contemplating selling your home, but just don't know where to start, give one of our agents a call today. In the meantime, find a handy infographic with Kim Hurst's memorable acronym below.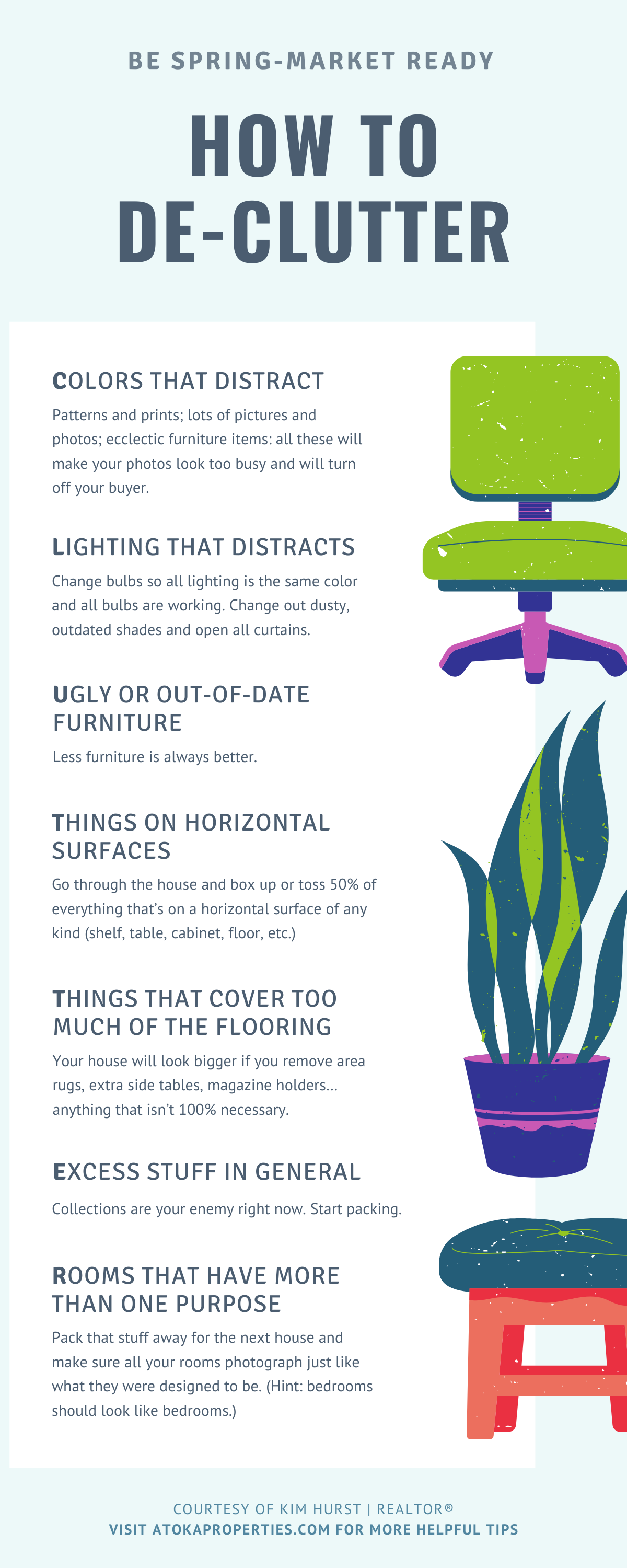 —
Related links
To Rent or Not to Rent? 10 Questions to Ask Yourself Before You Sell
Open House Prep Guide: Get Ready in 16 Steps