Having market data can help you as a homebuyer or seller to make informed decisions about your biggest investment. Is now the time to sell? Should we wait? What does a "seller's market" even mean??? It can be a pain to sift through all the data on your own – which is why having the right agent and brokerage to represent your interests is essential, for everything from knowing when to sell to what price you should list at.
We'll be bringing you monthly reports like this one so that you can see what we see – in a simple and helpful format. There is a never-ending supply of metrics to use when it comes to market stats, but we've included the most common, and really the most important, to give you an informative overview.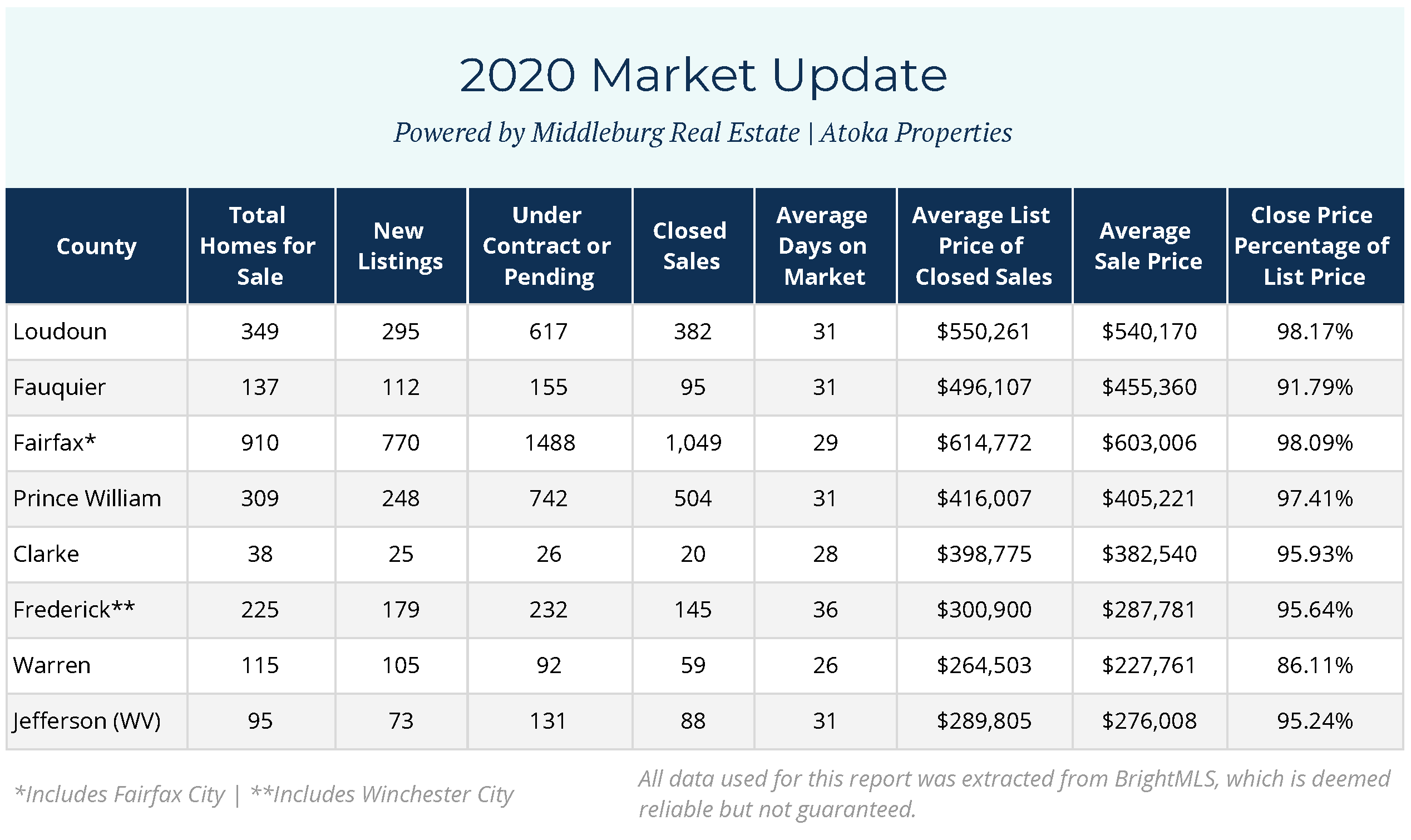 From the above chart, you can see that in Loudoun, Fairfax, Prince William, and Jefferson, more homes are selling than coming on the market – this is the textbook definition of a "seller's market". Even the other counties where this isn't the case are not far off from an even trade in inventory. With a continuing lag in housing inventory, home sellers are in an advantageous position, especially when you consider that homes in these counties are selling for 95% or more of list price.
What does this mean for homebuyers? Have your ducks in a row BEFORE you start shopping. Find a great lender to work with, like Homebridge or RMS, and get pre-qualified for your loan. Discuss with your agent what options you have to put you at the top of the stack of potential contracts home sellers will be getting. Most importantly, you'll need to act fast when you find your dream home, so make sure you know exactly what you're looking for and that you and your family are in agreement.
—
That's it for this month's market update! Looking for other stats you don't see here? Let us know!
—
Related links
Be Spring Market Ready: How to Prep Your Home for Sale
The 7 Step Process to the Best Home Loan