The February 2021 Market Snapshot reflects the geographical diversity of our area and how back-to-back snowstorms affected the real estate market with a large section of the market compelled to take a snow day or two. To make sense of what we are seeing from February's numbers, we decided to break it down by snowfall.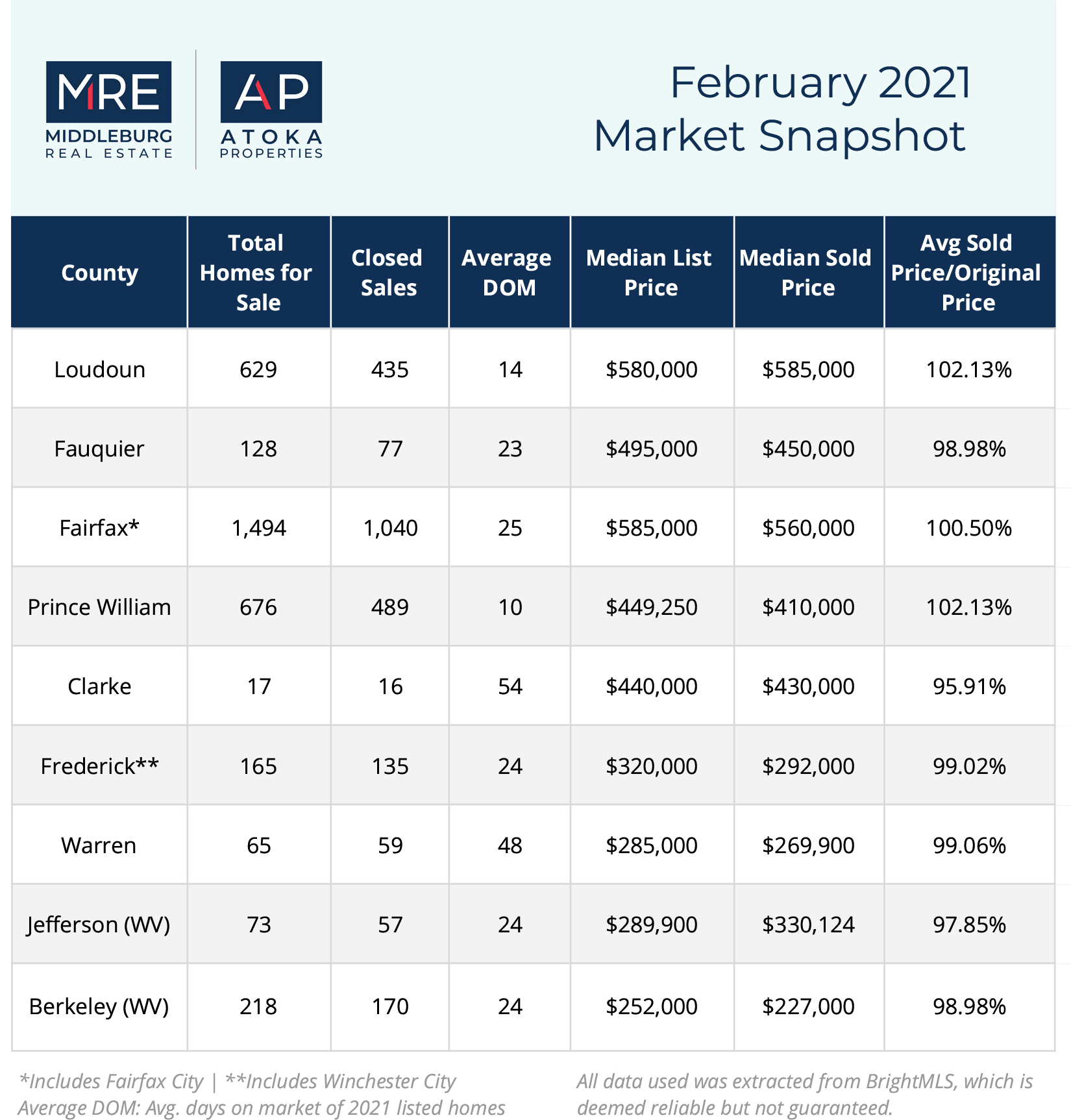 Here are the highlights:
On average, the market had more activity over January 2021 in the counties that had less snowfall. Loudon, Fairfax, Prince William, and Fauquier all saw an increase of 13-24% more listings on the market. The number of closed sales remained about the same, while days on market decreased by 3-4 days in Loudoun and Prince William.
Counties with greater snowfall totals, on average, saw a decrease in market activity over January 2021. The number of listings on the market decreased by 2-15% in Clarke, Frederick, Warren and Berkeley while Jefferson saw an 18% increase. Closings remained nearly the same with an average 2% increase. Days on market in Jefferson and Berkeley Counties were both relatively steady at 24 days, while Clarke and Warren nearly doubled their average days on market going from 23 to 54 days in Clarke and 26 to 48 days in Warren.
Median sold price continues to remain steady or trend up over January 2021. The median sold price in February 2021 was an average of $13,259 higher across the area. The biggest increases were in Jefferson and Loudoun at about $36,000 and Clarke a little over $54,000. Average sold-price-to-original-price percentage fluctuated slightly by county with the biggest changes being a 2.46% increase in Fauquier and a 2.04% decrease in Jefferson, but overall it is up .23% across the region.
Bottom line:
A quick check of the national statistics for February noted a slight slowdown as a result of the back-to-back winter storms that affected large swaths of the country, not just our area. It was a good time to drink hot cocoa, make plans for spring garden planting, and daydream about home shopping. With the change in seasons and, as more of the population has access to the COVID vaccine, we expect the market to start opening up with increased supply. Here is to hoping March 2021 is much different than March 2020.
—
RELATED LINKS
Market Snapshot | January 2021
Market Snapshot | December 2020