The March 2021 Market Snapshot confirms what we have been seeing - although the number of listings across the area increased by an average of 63% over February 2021, listings are going under contract rapidly - and at over asking price in many cases. In March, both median list prices and median sale prices continued to trend up, while days on market trended down.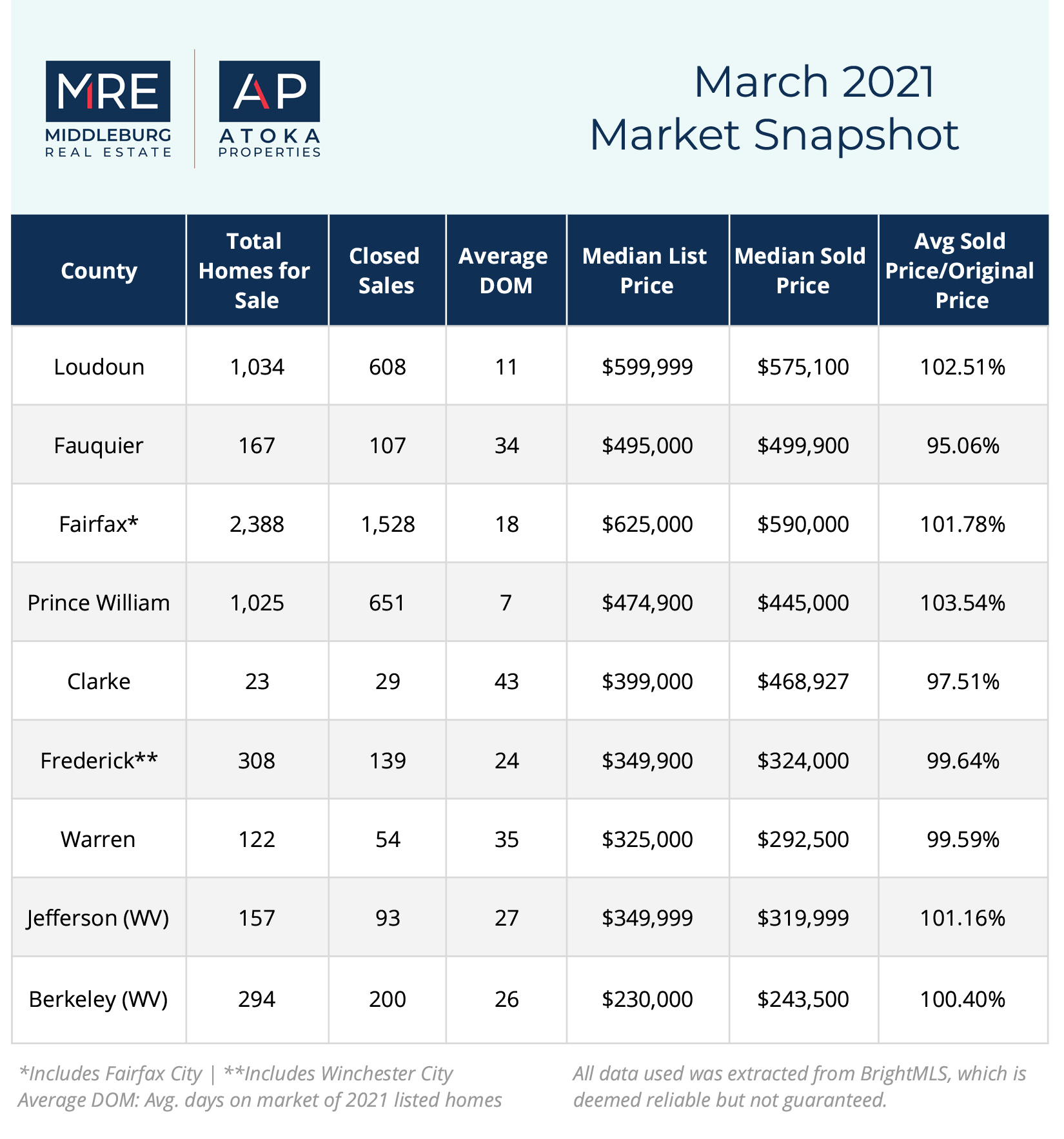 Here are the highlights:
On average, the median list price across the area is up by nearly $17,000 over February 2021. Loudoun, Fairfax, Prince William, Frederick, and Warren counties saw increases in the median list price of between $20,000-$40,000. Jefferson County was the outlier at a $60,000 increase in the median list price. Fauquier remained steady, while Berkeley and Clarke Counties were down just over $20,000 and $40,000, respectively.
Houses are also selling for more, with average median sold price up just over $20,000 across the area. Fairfax, Prince William, Frederick, Clarke, Warren, and Berkeley counties saw median sales price increases between $16,000 and $38,000, while Fauquier county saw an increase of a whopping $50,000. Conversely, Loudoun and Jefferson saw decreases in the median sold price of about $10,000 over February.
Days on market continued on a downward trend over February 2021 by an average decrease of 2 days across the area, with the most significant decrease of 11 and 13 days in Clarke and Warren counties. Berkeley and Jefferson experienced an increase in days on market of 2 and 3 days, respectively, with Fauquier showing an unexpected increase of 11 days on market - perhaps the lingering effects of significant snowfall earlier in the year.
Bottom line:
March 2021 stats confirm a strong spring real estate season and a seller's market. Despite increases in inventory across the area, lack of inventory does continue to be an issue. Buyers have a good deal of buying power right now as interest rates continue to remain relatively low, but the market is still extremely competitive. Whether buying or selling, be sure you have a professional REALTOR® and experienced mortgage lender on your team to help you navigate the pitfalls of this fast-paced market.
—
RELATED LINKS
Market Snapshot | February 2021
Market Snapshot | January 2021