The April 2021 Market Snapshot echoes what we have been seeing throughout the month here at MRE | AP - a quickly moving seller's market. Although inventory increased with the number of new listings up by 17% over March 2021, homes are continuing to sell at or over list price, with sold prices an average of 1.28% more than asking. The most interesting data point we are seeing is the decrease in days on market and increase in list price in our more rural areas.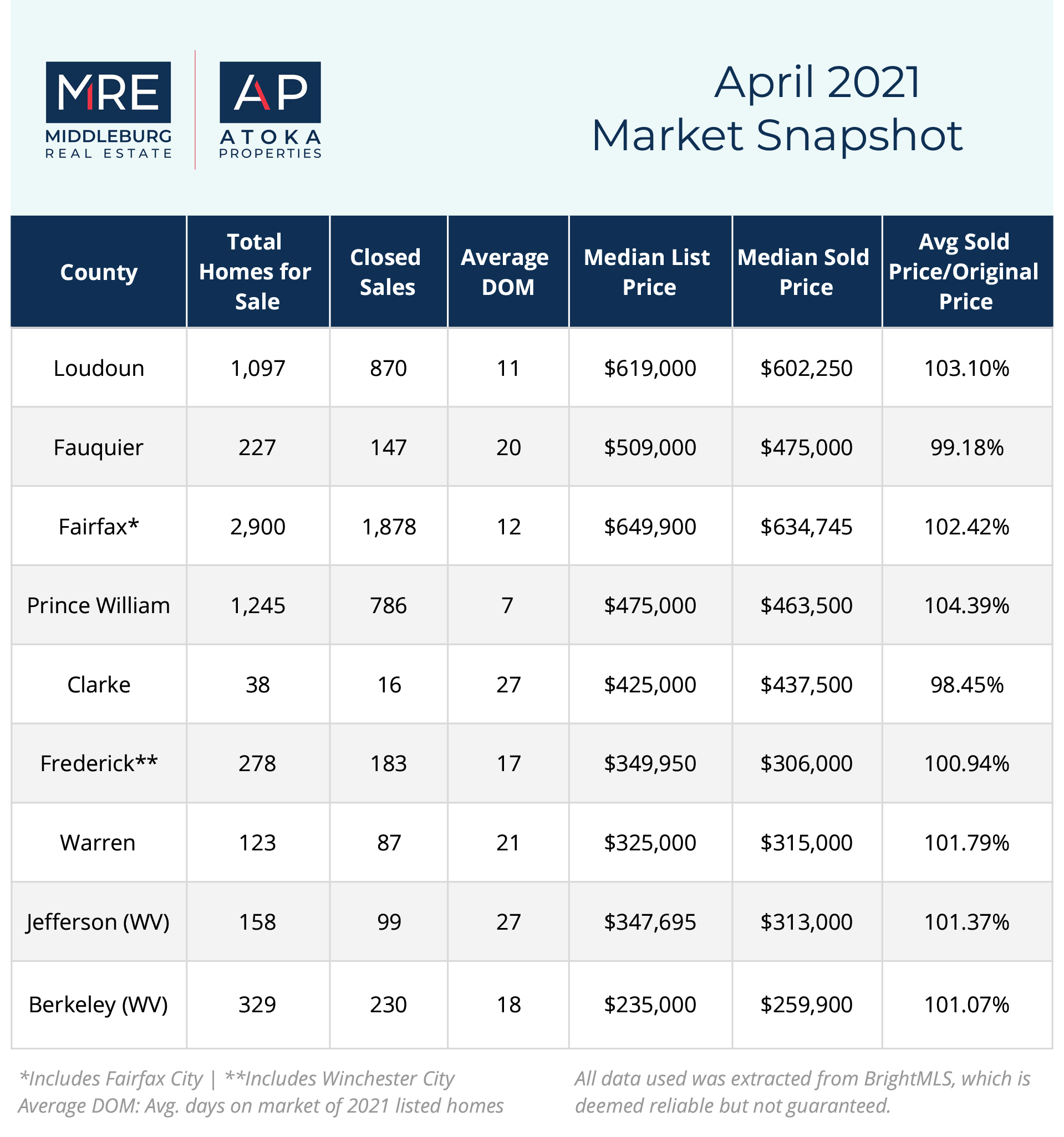 Here are the highlights:
On average, the median list price across the area is up by nearly $10,000 over March 2021. Fairfax and Clarke saw the biggest jumps with an average of $25,450 increase in median list price. Fauquier and Loudoun saw increases between $14,000 and $19,000 in median list prices, while the remainder of the Virginia counties remained pretty steady. In West Virginia, Jefferson took a hit of just over a $2,000 decrease in median list price, while Berkeley popped up by $5,000.

The median sold price had a boost of just over $5,000 over March 2021 despite some fluctuation throughout the area. Perhaps the drop in median sales price can be attributed to what we are seeing as appraisals balancing out bidding wars in some areas. The biggest changes were an increase of nearly $45,000 in Fairfax and a decrease of around $31,000 in Clarke. (With the vast difference in the number of homes on market between the two counties, Clarke's drop is nothing to be concerned about.) Berkeley and Prince William saw just over $16,000 and $18,000 increases respectively, while Warren and Loudoun saw increases of just over $22,000 and $27,000. In addition to Clarke, decreases in median sold prices were seen in Jefferson ($7,000), Frederick ($18,000), and Fauquier ($24,900).

The market continues to move quickly as proven by an average drop of 7 days on market in the area since March 2021. The most significant changes were in the more rural counties. Warren and Clarke days on market were down another 14 and 16 days since March 2021, bringing the total change in days on market to a remarkable 27 day drop since February 2021. Fauquier, Berkeley, and Fairfax also saw drops of 14, 8 and 6 fewer days on market respectively, while the remainder of the area remained unchanged.
Bottom line:
April 2021 stats confirm the continuance of a strong spring real estate season and a seller's market. It appears that buyers are expanding into the more rural counties to take advantage of more homes to choose from, but those markets are just as competitive with days on market decreasing and list prices increasing. Whether buying or selling, be sure you have a professional REALTOR® and experienced mortgage lender on your team to help you navigate new communities and be prepared to move in this fast-paced market.
—
RELATED LINKS
Market Snapshot | February 2021