You were not imagining it, the May 2021 Market Snapshot confirms that there were fewer homes on the market in May than in April 2021. And, yes, those homes were snapped up faster than any other month to date in 2021. In fact, there were 3% fewer homes for sale across the area in May than April 2021 and they went under contract in an average of 6 fewer days.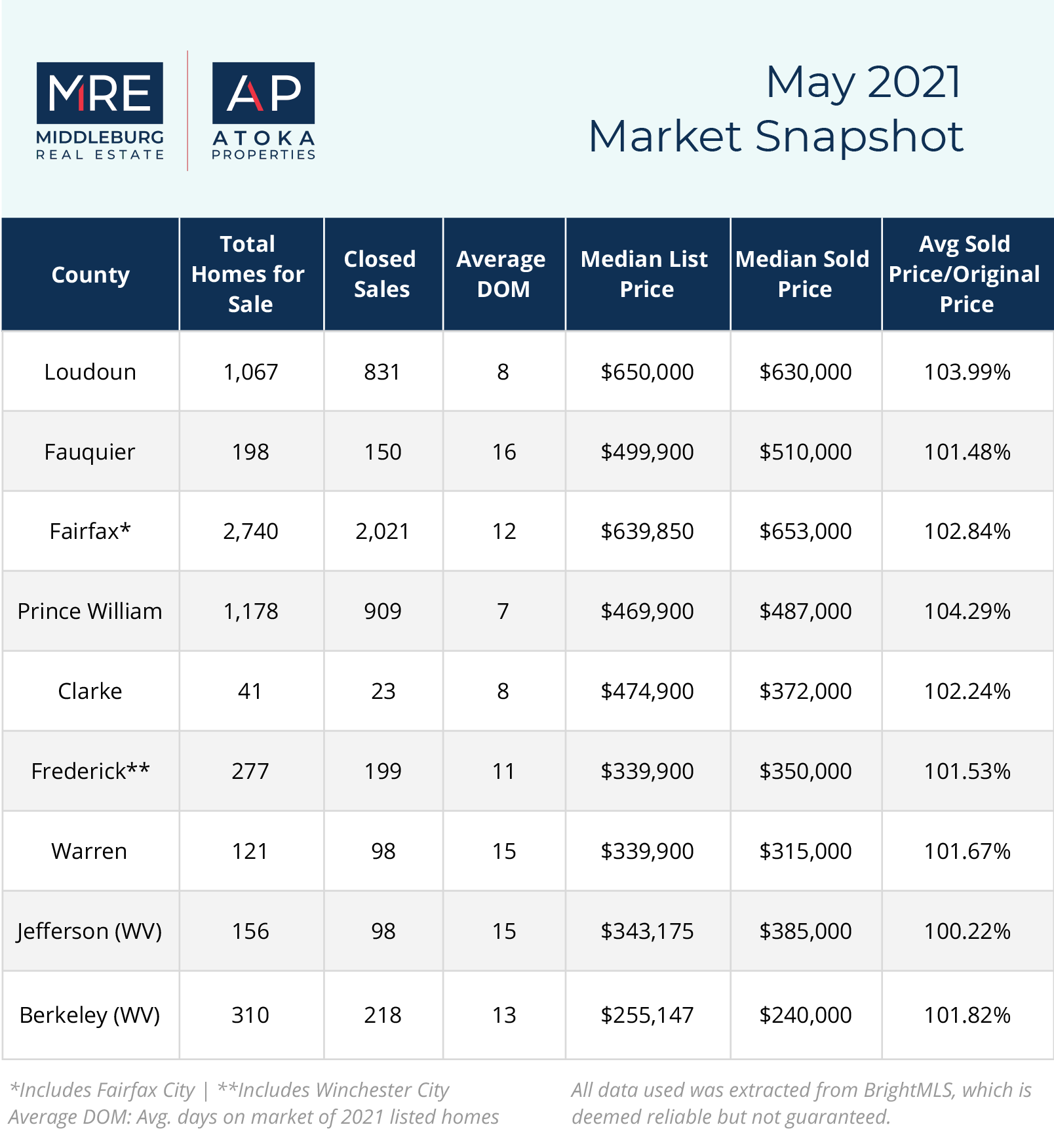 Here are the highlights:
The median list price is up, or down, depending on the county. Although there continued to be a gain in median list price of an average of $8,570 over April 2021 across the area, that growth appears to be localized. Clarke and Loudoun experienced the biggest change in median list prices at an increase of $49,000 and $31,000 respectively. The median list price in Berkeley grew by $20,000 and in Warren by $15,000. Conversely, the median list price went down in Fauquier, Fairfax, and Frederick by about $10,000 and in Jefferson by $4,500.

The median sold price is still going up in most counties. We saw the biggest changes in median sold price over April 2021 with a $72,000 jump in Jefferson and a $44,000 increase in Frederick. That growth in median sold price was also seen in Fauquier ($35,000), Loudoun ($28,000), Prince William ($23,500) and Fairfax ($18,000). Clarke is once again the biggest change with a nearly $66,000 decrease in median sold price over April 2021. Berkeley followed with a $20,000 decline in median sold price, while Warren remained steady. The average sold price/original price was up .8% to an average of 102.91% across the area.

The market is clipping along even faster with days on market continuing to plummet. Without exception the number of days on market remained unchanged or dipped, for an average of 6 fewer days on market across the area. We saw dramatic drops of 19 days in Clarke and 12 days in Jefferson, putting homes in those counties at a record breaking average of 8 and 15 days on market respectively for the year. Prince William remained steady with an astonishing average of just 7 days on market, making it the fastest selling market in the area for the fifth consecutive month.
Bottom line:
What we are seeing locally is mirroring national trends with limited inventory, decreased days on market, and growing median sold price. Interest rates continue to remain low, but affordability is becoming a factor in the more populated counties with the competition for limited inventory driving up the median sold price. The increasingly robust market in the more rural counties (Warren, Clarke, Jefferson, Berkeley) shows us that there is spill over into those areas where the median list price, while going up, is still comparatively affordable. If you're planning on diving into this whirlwind market as a buyer, you will need to be poised to move quickly and the insight of a professional REALTOR® and experienced mortgage lender on your team will be invaluable assets.
—
RELATED LINKS