The June 2021 Market Snapshot indicates that although both list and sale prices increased slightly, we may be reaching a plateau as the customary summer slowdown shows up in the market. Across the area, inventory remained at the same level, days on market remained pretty steady, and the average sold price/original price dipped slightly by .92%.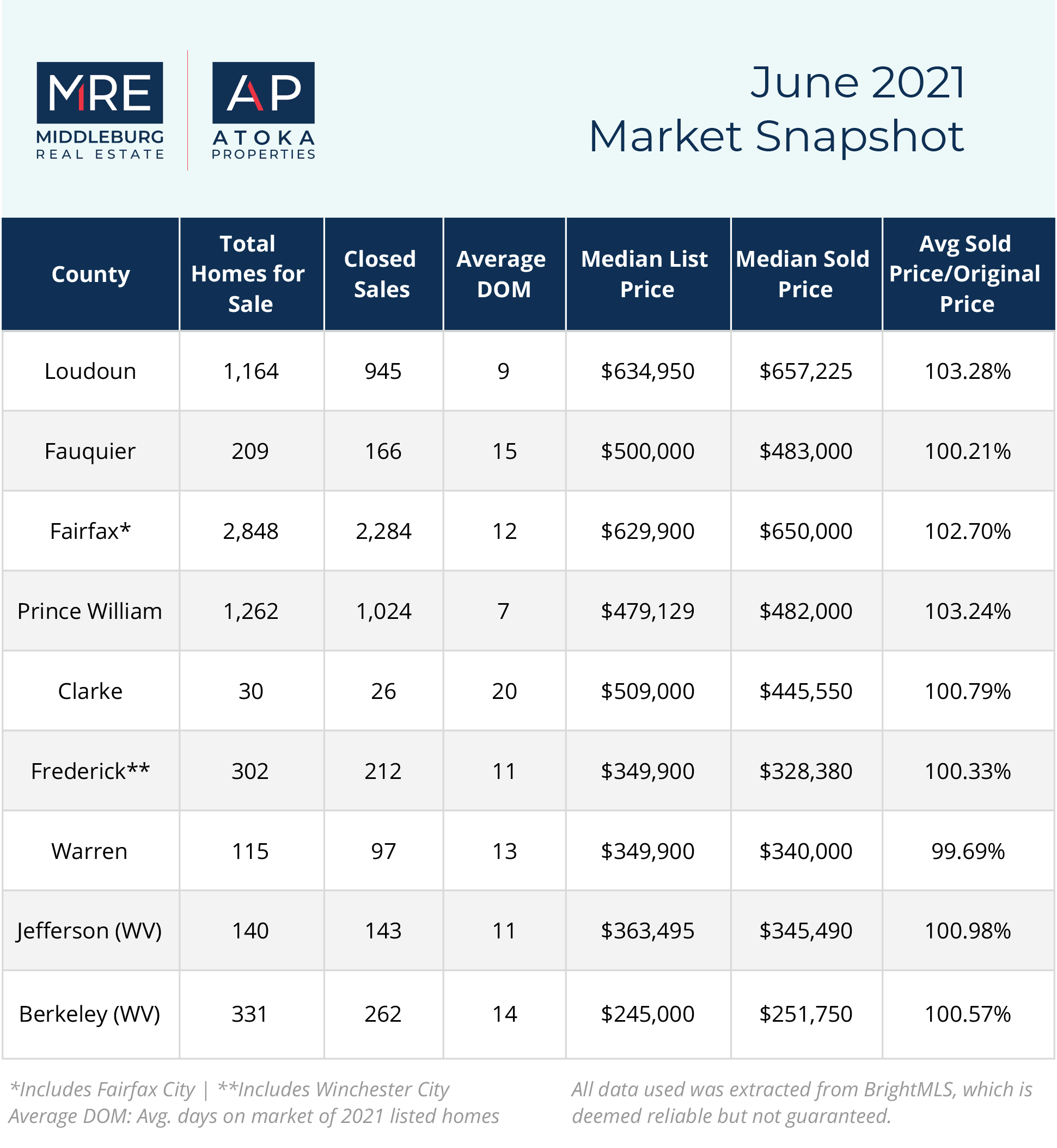 Here are the highlights:
On average, the median list price across the area is up $5,000 over May 2021. Getting to that average involved a lot of up and down across the counties. Increases of $10,000 were seen in Prince William, Frederick, and Warren counties with Jefferson doubling that at a $20,000 increase and, as usual, the outlier is Clarke county with a $34,000 increase in median list price. Conversely we saw decreases of $10,000 in Fairfax and Berkeley and $15,000 in Loudoun.

We saw a slight uptick of an average of $5,000 in median sold price over June 2021 across the area. The same up and down action across the counties occurred to get that average change in median sold price. Loudoun ($27,000), Warren ($25,000) and Berkeley ($11,000) all saw increases in sold prices. Jefferson took the biggest dip at a decrease of $39,000 followed by Fauquier at $27,000 and Frederick at $21,000 down. Prince William and Fairfax were pretty steady with only $5,000 and $3,000 decreases respectively. Clarke was up $73,000, but with only 26 closed sales for the month, one or two sales can skew those numbers significantly.

The June 2021 market over the entire area moved at about the same pace as May 2021. Days on market remained the same in most areas. Although the average sold price/original price took a little dip compared to May 2021, it is still at an average of 101.93% across the area. Jefferson was the only county to have an increase (.76%). The biggest decreases were in Warren (1.98%), Clarke (1.45%), Fauquier (1.27%), Frederick (1.2%) and Berkeley (1.25%) with the rest of the counties having a less than 1% decrease.
Bottom line:
June 2021 stats tell us we are still in a seller's market with low inventory, increases in both list and sale prices and average sold price/original price still over 100%. However with market activity at nearly the identical level as May 2021 and only a slight price increase, we have definitely entered the summer season. This may be more pronounced than past years as people are taking advantage of loosened COVID-19 restrictions and heading out of town for real vacations this year. Whether buying or selling, the insight of a professional REALTOR® and experienced mortgage lender on your team will be invaluable assets in this tight market.
—
RELATED LINKS