Not a lot about 2021 has been typical, but the July 2021 Market Snapshot confirms that the seasonal real estate market fluctuations seem to be still applicable. The number of homes for sale and closed sales are down slightly over June, which has historically been the standard of the summer market in our area. Median list and median sold prices fell in some counties, but are still significantly higher than July 2020. Your home is definitely worth more in this market than in the same period last year and if you are in the position to sell, you can cash in on equity.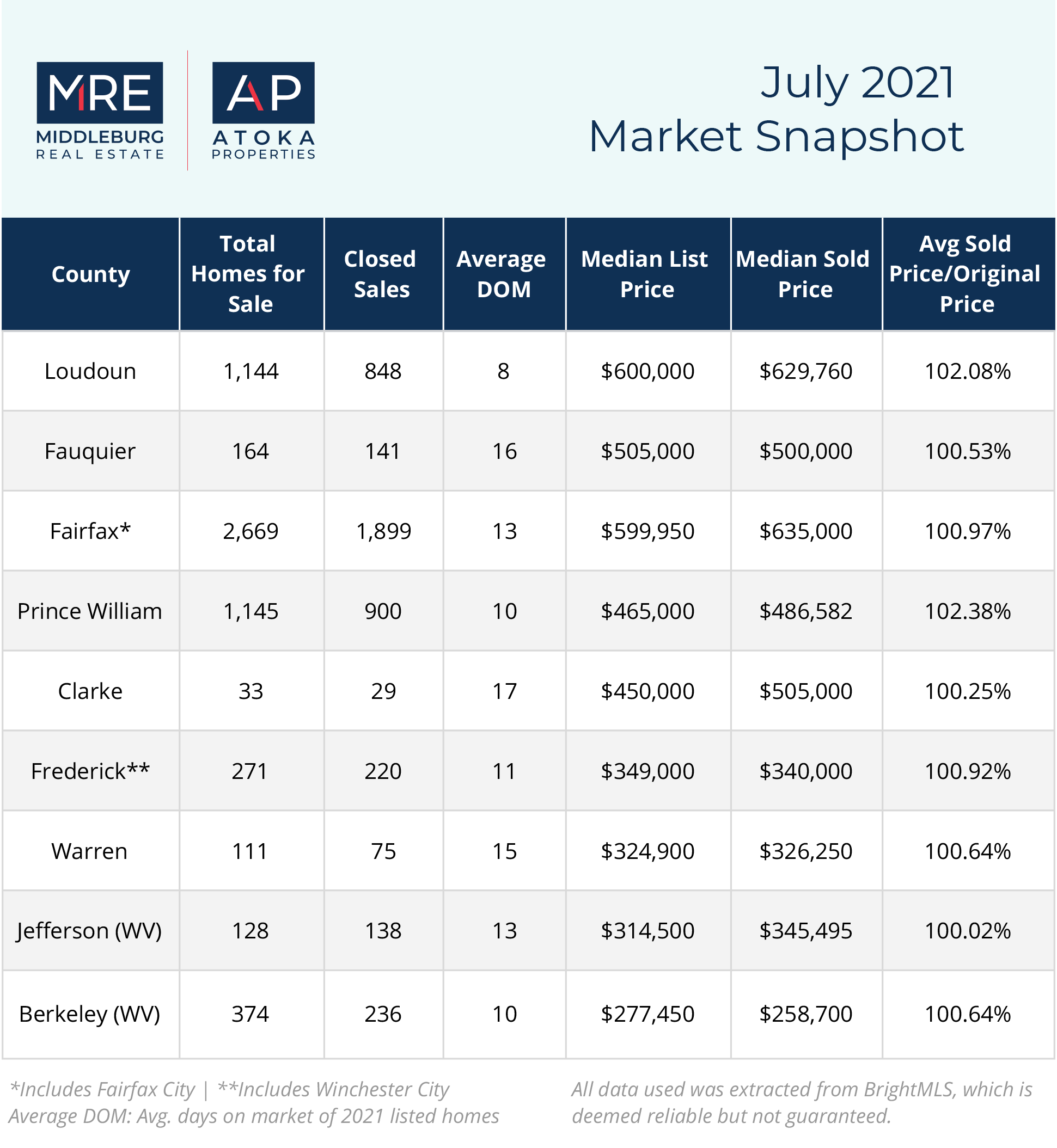 Here are the highlights:
On average, the median list price across the area is down in nearly every county. Median list prices dropped by $14,000 in Prince William, $25,000 in Warren, $30,000-$35,000 in Fairfax and Loudoun, $48,000 in Jefferson, and $59,000 in Clarke. Frederick remained pretty much steady and gains were seen in Fauquier ($5,000) and Berkeley (a whopping $32,000). Even with the dips, the median list price in Loudoun county is still $50,000 more than in July 2020.

The Median sold price was on average up slightly by nearly $5,000 over June 2021 across the area. Increases were seen in Prince William ($45,000), Berkeley ($7,000), Frederick ($11,600), Fauquier ($17,000), and Clarke ($55,500). Jefferson remained steady, while Warren (-$14,000), Fairfax (-$15,000), and Loudoun (-$27,500) saw dips. Median sold prices are up significantly across the area over the same period last year.

Days on market across the area also remained steady at an average of 13 days with very slight fluctuations by county. Compared to July 2020, this is a 39% decrease in the average days on market over last year. The average sold-price-to-original-price ratio is at 101.36% across the area, which is slightly lower than previous months. Fairfax and Loudoun had the biggest dips to 100.97% and 102.08%, down from their peaks of 102.84% and 103.99% respectively seen in May 2021.
Bottom line:
Homes are still selling quickly and, in a lot of cases, over asking price. July's slight dips in median list price and list-price-to-sold ratio are signs of a typical seasonal slowdown. We are anticipating the customary pop in inventory and activity in the fall as people wind down from summer vacations and thanks to positive economic factors such as low unemployment, low interest rates, and consumer confidence. Whether buying or selling, the insight of a professional REALTOR® and experienced mortgage lender on your team will be invaluable assets in this market that continues to be competitive.
—
RELATED LINKS