From the August 2021 Market Snapshot, it looks like the real estate market decided to spend August poolside with an icy beverage. The market was busy enough to feel productive, but it seems that nobody was in a rush. Compared to July 2021, inventory was down about 10%, the number of days on market increased, and the average sold price to original price ratio dipped across the area. Let's take a look at the specifics.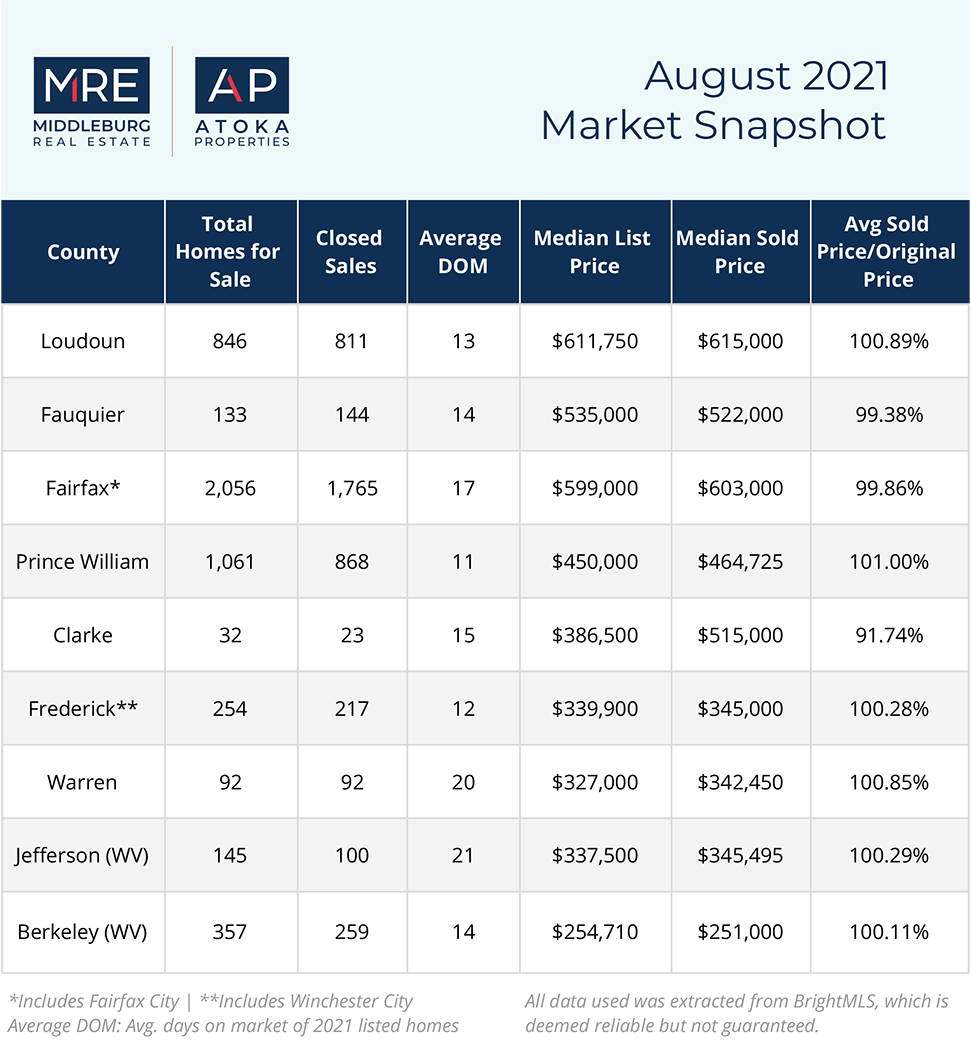 Here are the highlights:
Overall, the median list price experienced some slight ups and downs by county over July 2021, but netted a slight decrease of $5,000 across the area. Median list prices were up in Warren ($2,000), Loudoun ($12,000), Jefferson ($23,000), and Fauquier ($30,000). Dips in median list prices were seen in Frederick ($9,000), Prince William ($15,000), Berkeley ($23,000) and Clarke ($63,000). Fairfax remained pretty steady.

The Median sold price data shows a similar picture by county, netting a slight decrease in median sold price of $2,500. Fauquier and Warren were the only counties that saw increases in both median sold and median list prices, with median sold prices increasing by $22,000 and $16,000 respectively. Median sold prices were also up in Frederick ($5,000) and Clarke ($10,000), with Jefferson remaining steady. Median sold prices fell in Berkeley ($8,000), Loudoun ($14,000), Prince William (21,000) and Fairfax ($32,000).

The gap between average sold price to original price is continuing to get closer at 100.5% across the area. This is down from a high of 103% that was seen back in May 2021. This ratio decreased by a little over 1% in nearly every county over July 2021. Clarke was the usual outlier at a 8.51% decrease. Warren and Jefferson saw slight increases at .21% and .27% respectively.
Bottom line:
While overall the number of listings is down over past years, the numbers show similar seasonal trends compared to past years. With the increase in days on market and the decrease in the sold price to original price ratio, buyers stand a better chance of not only being successful bidders in a market that is still lacking in inventory, but also having some wiggle room with negotiation. September is already starting to look busier and we are looking forward to the usual uptick in the fall market. Whether buying or selling, the insight of a professional REALTOR® and experienced mortgage lender on your team will be invaluable assets in the fall market to recommend which points to negotiate and be set up for success.
—
RELATED LINKS