There's no question that it's an exciting time to live in West Virginia! It's the best of both worlds: you get the benefits of living in a more rural area with an abundance of outdoor activities at your doorstep, while living within driving distance of the greater DC area!
Here are just a few of the reasons to move.
1. Lower Housing Costs
If you've been house hunting in Maryland or Virginia, you might be surprised to find how much more house you can buy in West Virginia. Take a look at the average price per square foot and average sold price in these counties1 :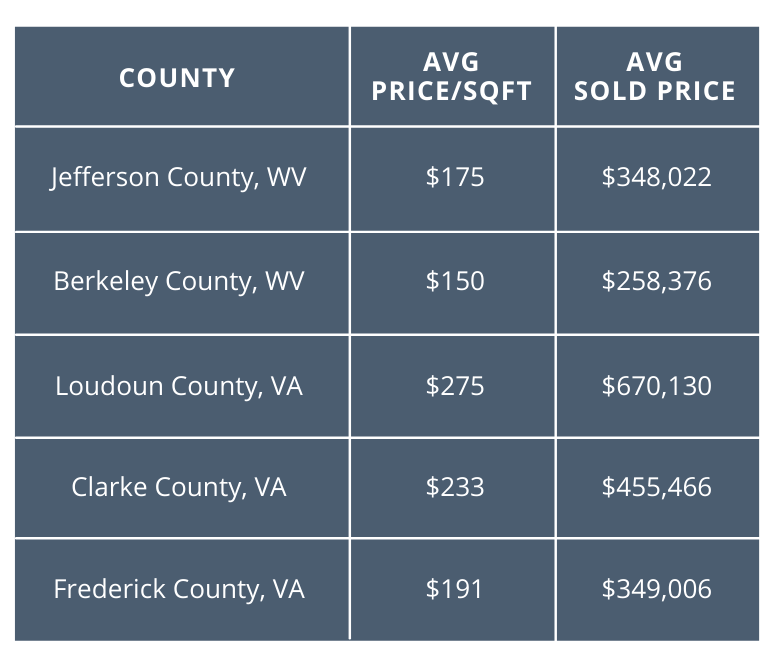 These numbers speak for themselves. And a lower monthly housing payment means you can spend more on the people and things you love!
2. Growing Job Market
Jefferson and Berkeley counties hosts several Federal government agency offices including Homeland Security, IRS and the U.S. Coast Guard.
Between the $500 million Proctor and Gamble production facility, the Macy's fulfillment center,2 and the soon to be operational Clorox plant,3 Martinsburg is booming with new job opportunities. The proximity to the I-70 and I-81 corridor is very attractive to manufacturers, which continues to bring more jobs to Berkeley County. Meanwhile, Jefferson County jobs grew by 7.9% between 2013 and 2018, which is higher than the national average of 7.4%.4
3. Location, Location, Location
If you enjoy being outside and mountain views, you will relish feeling like you are on a permanent vacation in the Eastern Panhandle. Easy access to the Appalachian trail, the C&O canal, and both the Shenandoah and Potomac rivers guarantees that a great view and the stress-reducing sounds of nature are always just minutes away. Another perk is the proximity to cities like Hagerstown, Frederick, Leesburg, Winchester, and Washington, DC. Many who live in Jefferson County find they can still easily commute to work and shop in these hubs. With a growing number of employers embracing the work-from-home model and high speed internet availability in many areas, commuting may not even need to be part of the equation.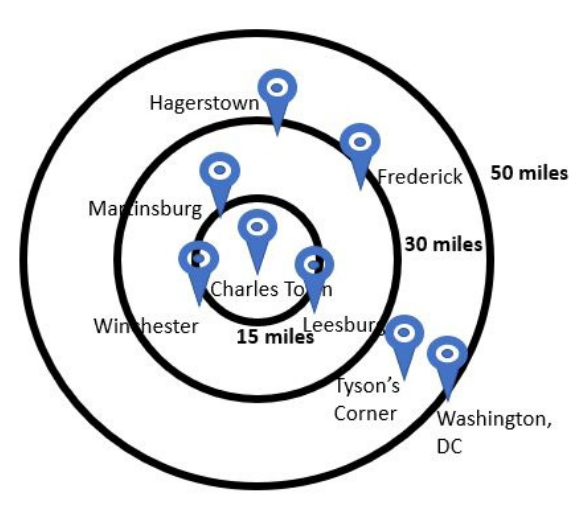 4. Land Availability & Privacy
If you're looking for more space and privacy, you're looking in the right place! The average price per acre in Jefferson County is $46,128, much lower than the $92,635 in Loudoun County, VA boasts or $96,402 in Frederick County, MD.5 Find a view you love and build on it! Land prices in Berkeley and Morgan counties are even lower.
5. Residential Choices
Whether you want to live on the mountain surrounded by trees, among the rolling hills along the Potomac or Shenandoah rivers, or in a planned community with amenities, West Virginia's Eastern Panhandle offers you choices. With historic homes in it's charming towns or rural settings, farms and farmettes, and neighborhoods with adjacent schools, you are sure to find just the right combination of home and land to suit your needs.
These are just a few of the things that makes this area an exciting place to live. Being experts on all things "local", we are seriously into our community. From coffee shops to hiking trails, MRE | AP real estate agents are go-to resources for neighborhood knowledge and nearby attractions. We make it our business to be informed so that getting to know your new neighborhood, or maybe re-discovering the charm of the old, is a fun and rewarding experience.
--
Related Links
Restaurant Guide | Charles Town
Restaurant Guide | Harpers Ferry
Get Local | Meet a West Virginia Agent
---
1Based on Bright MLS Market Statistics and Market Analysis Reports on Residential Sales from Jan 2021 through Jun 2021.
2Deskins, J., Lego, B., & Stilianoudakis, W. (2018). The Eastern Panhandle Economic Outlook 2019-2023. West Virginia University Bureau of Business & Economic Research.
3McCullough, M., 2020. Clorox Announces Plans For Berkeley County Plant - WV Metronews.
42020. Jefferson County, West Virginia Workforce & Labor Statistics | JCDA. [online]
5Based on Bright MLS Results Statistics report on Land Sales from Feb 2020 through Jan 2021.