The most notable data point from the September 2021 Market Snapshot is that the average sold price/original price dropped below 100% for the first time since May 2021 in nearly every county, for an average of 99.17% across the area. Does this mean the market is cooling down overall, or is this just the historical Fall dip? Compared to September 2020 this is typical of a Fall slowdown as buyers and sellers settle into the new school year and upcoming holidays.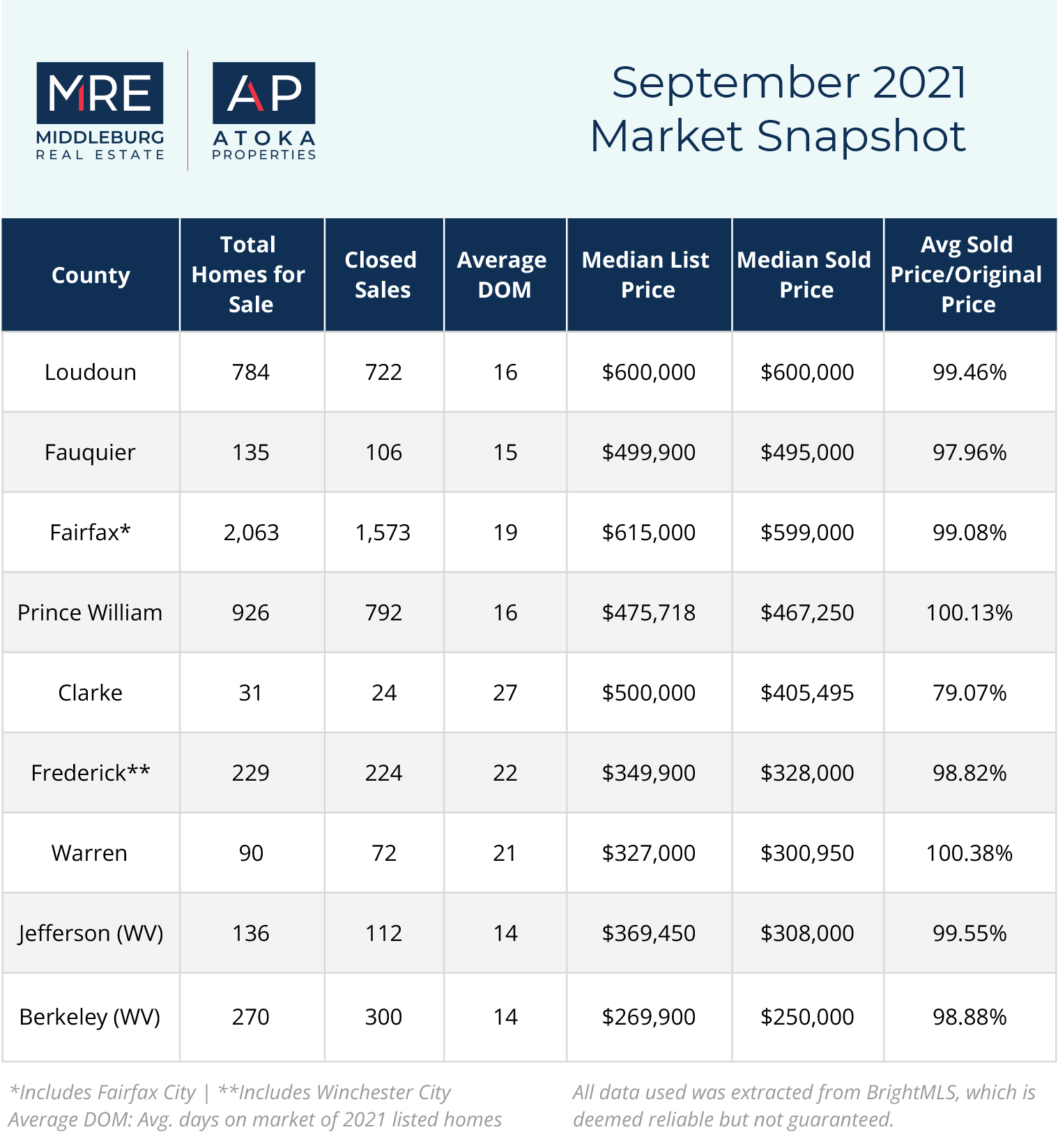 Here are the highlights:
As expected, the median list price experienced some fluctuations by county over August 2021, but was up an average of $18,000 across the area. Warren's median list prices remained the same while median list prices were up in Frederick ($10,000), Fairfax ($16,000), and Prince William ($25,000). The West Virginia markets also saw increases in median list prices in both Jefferson ($31,000) and Berkeley ($15,000). Dips in median list prices were seen in Loudoun (-$11,000) and Fauquier (-$35,000). Clarke county is once again its own microsystem due to the very small number of homes on the market with a $113,000 increase in median list price over August 2021.

The median sold price data shows that those increased list prices didn't necessarily pan out, with decreased median sold prices in nearly every county. Median sold prices were down an average of $27,000 over August 2021 across the area. Prince William had the only gain of just over $2,000 and Berkeley was nearly even with a $1,000 decrease. The dip in median sold prices was seen in a range of amounts: Fairfax (-$4,000), Loudoun (-$15,000), Frederick (-$17,000), Fauquier (-$27,000), Warren (-$41,000), and Jefferson (-$37,000). Clarke's median sold price was down $109,000.

All the up and down of median list and median sold prices translated to a decrease in the average sold/original price ratio. Across the area this was an average of 2.34% down, but that was heavily skewed by Clarke county. Decreases over August 2021 of under 1% were seen in Warren, Jefferson, Fairfax, and Prince William - with the end result of Price William and Warren still sitting just slightly over 100%. Loudoun, Fauquier, Frederick, and Berkeley saw reductions between 1.23% and 1.43%, putting them all below 100% of average sold price/original price. Inventory across the area was down about 7% over August 2021 and homes were on the market an average of 3 days longer for an average of 18 days.
Bottom line:
While these data points are in line with last year's Fall market cool down, only time and the spring market, will tell if this is indicative of a longer-term market adjustment. Does this mean October is a bad time to sell or buy? Absolutely not! Having a professional REALTOR® and experienced mortgage lender on your team to help you navigate this changing market is vital. With the right strategy, you can be in your new home before it's time to go over the river and through the woods to Grandma's house for Thanksgiving dinner.
—
RELATED LINKS