The October 2021 Market Snapshot confirms that home values across the area continue to trend upward over both September 2021, and October 2020. Based on growth in all the data points we are tracking in this report, it appears that the Warren, Jefferson and Berkeley markets have been heating up during the cool season with home buyers making the move to those more rural counties, and paying a little more for these homes.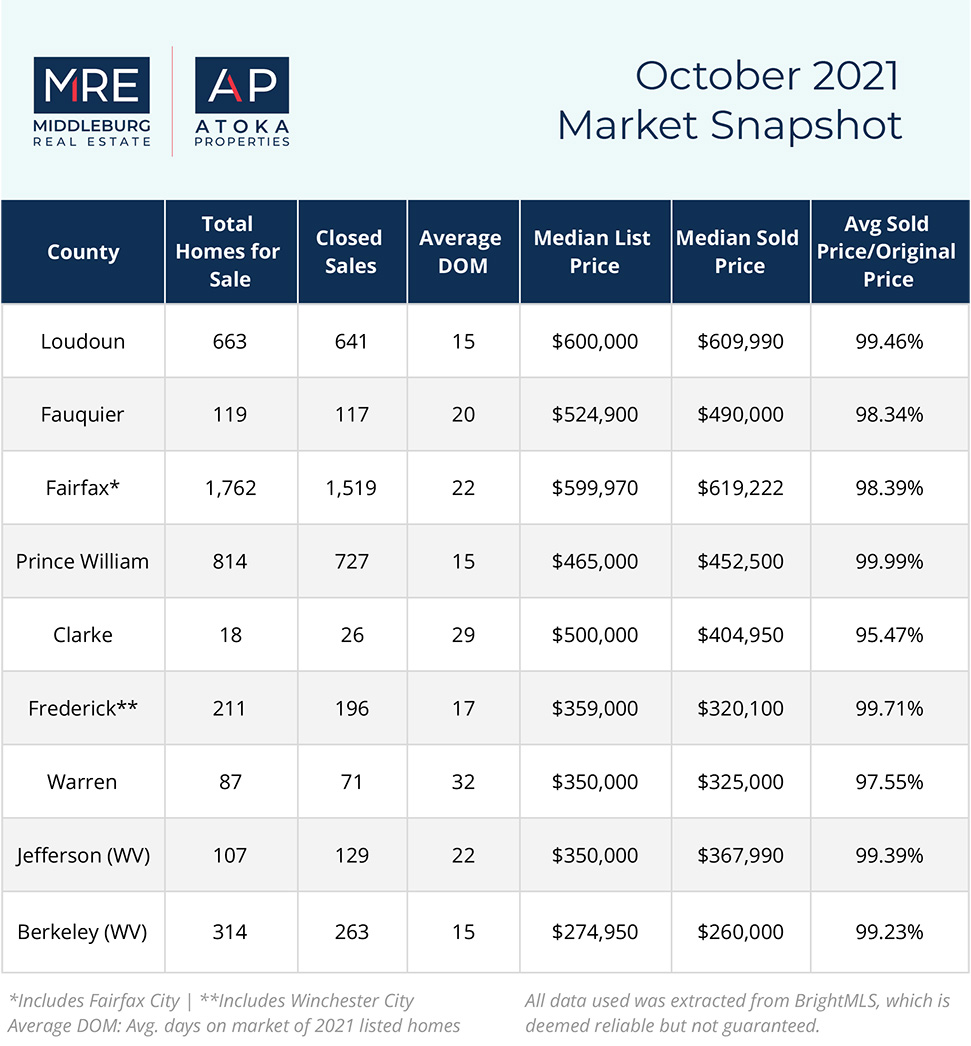 Here are the highlights:
Overall, median list price appears to be leveling off when compared to September 2021, with an average increase of only $2,000 across the area. However, in the counties with growth, that increase over September 2021 was not insignificant. Frederick showed a second month of growth with a $9,000 bump, Warren popped up $23,000 and Fauquier climbed $25,000. Median list prices in Loudoun and Clarke were even over last month, and Berkeley saw a small increase of $5,000. Fairfax, Prince William, and Jefferson saw dips in median list price between $10,000 and $19,000.

The median sold price across the area, however, is up an average of $10,000 over September 2021. Increases were seen at the closing tables in Loudoun ($10,000), Berkeley ($10,000), Fairfax ($20,000), Warren ($24,000) and Jefferson (a whopping $60,000). While Clarke was virtually even, Fauquier (-$5,000), Frederick (-$7,000), and Prince William (-$14,000) buyers got a little more for their money.

The average sold/original price ratio is hovering just under 100% at 99.35% across the area. (If you take Clarke's pendulum swings due to the relatively low number of transactions out of the calculations.) Compared to September 2021, there were 14% fewer homes on the market, but those homes stayed on market about 3 days longer.
Bottom line:
All indicators point towards a healthy, and typical, fall market with some wiggle room at the negotiation table. A professional REALTOR® and experienced mortgage lender can set you up with a strategy to have you in your new home before the end of the year. Sit yourself down with a cup of something hot, fire up the laptop, and settle in for some online home pre-shopping before Black Friday and Cyber Monday. (Our Just Listed blog is a great place to start.)
—
RELATED LINKS
Market Snapshot | September 2021