Cold days are good for crunching numbers, so grab a hot beverage and let's dive in. It continues to be a seller's market with inventory dropping 25% over October 2021 and median sold prices still increasing over October 2021. Despite going into the late fall/winter market, the median sold price is still hovering around $600,000 at the top of our area market in Loudoun County and at $260,000 at the lower end in Berkeley County.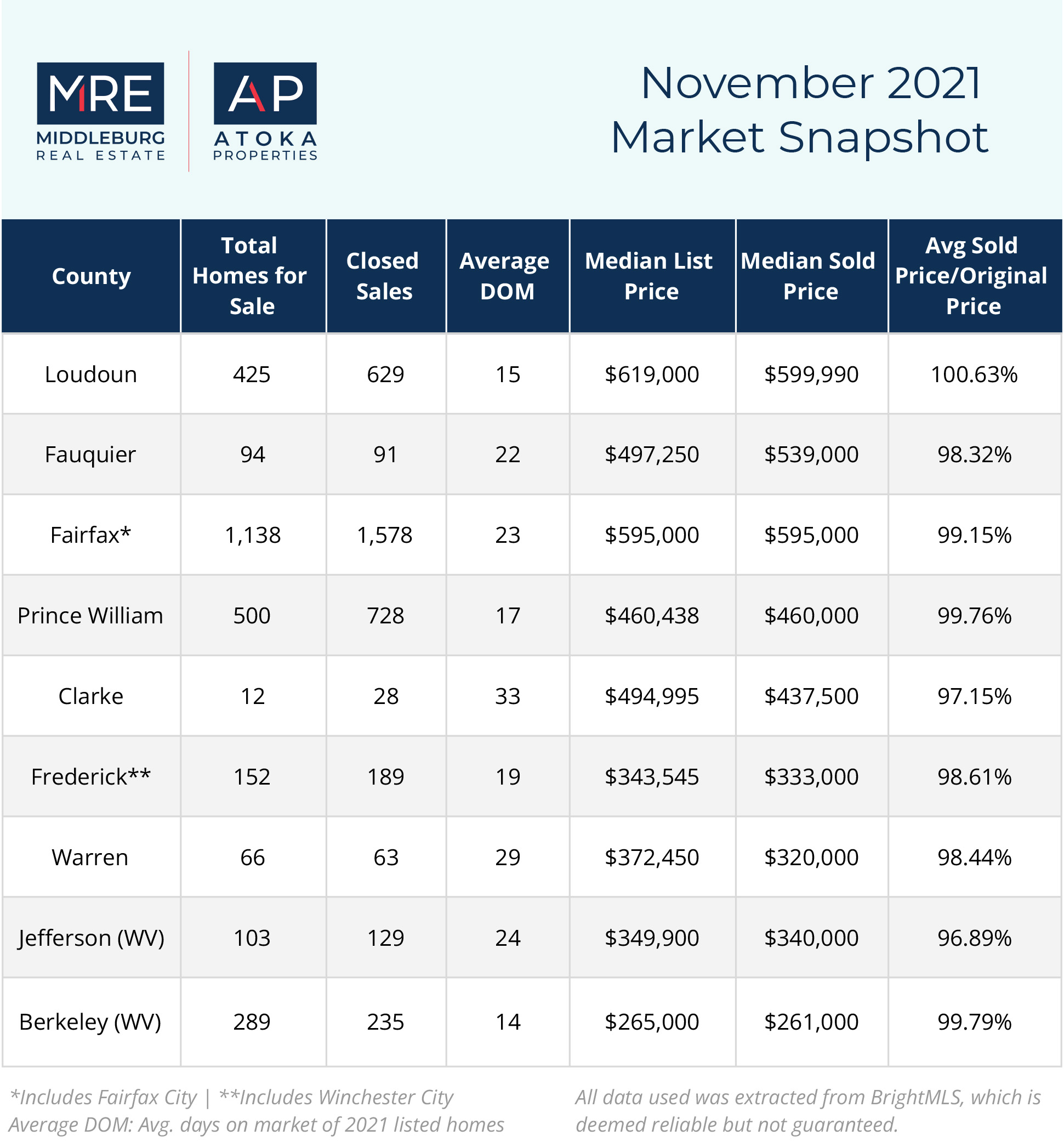 Here are the highlights:
Across the area, the median list price dipped by $3,000 over October 2021, but fluctuated by county. Increases were seen in Warren ($22,450) and Loudoun ($19,000), while Jefferson was steady. Fairfax, Prince William, and Clark all dropped around $5,000. More significant decreases happened in Berkeley ($10,000), Frederick ($15,000), and Fauquier (just shy of $28,000).

The median sold price across the area, however, popped up nearly $4,000 over October 2021 continuing the upward trend at a slower pace than the previous month. Median sold prices were up in Berkeley ($1,000), Prince William ($7,500), Frederick ($13,000), Clarke ($32,000) and Fauquier ($49,000). Those increases balanced out the lower median sold prices in Warren (-$5,000), Loudoun (-$10,000), Fairfax (-$24,000) and Jefferson (-$28,000).

The average sold/original price ratio is back up to over 100% at 100.21% after two months of hovering at just over 99%, indicating that for the most part home sellers are getting asking price. Those homes have spent just one additional day on market over October 2021 across the area, at an average of 22 days. While this is higher than earlier in the year, it is pretty typical of the season.

We were curious how the numbers looked year-over-year for November. Not surprisingly, a visual comparison of November 2020 over November 2021 median list and sold prices tells you that home values have gone up over the same time period last year.
Bottom line:
Two important reports out recently confirm on a national scale what we have been seeing locally. Fannie Mae's Press Release on December 7, 2021, Economic Pessimism Hits 10-Year High, but Consumer Sentiment Toward Housing Remains Flat notes that in "November, 74% of respondents reported that it's a good time to sell a home, compared to the 29% of consumers who reported that it's a good time to buy." Last week (December 1, 2021) the FHA released their much anticipated single family loan limits for 2022 that keep pace with the national increase in home values.
A professional REALTOR® and experienced mortgage lender can set you up with a strategy to navigate this market whether buying or selling. Make an appointment for now or after the holidays to collaborate a sound plan to make the most of this real estate market in 2022.
—
RELATED LINKS
Market Snapshot | October 2021

Market Snapshot | September 2021