At MRE | AP, our staff is family, and our family has been growing!
As a brokerage, we are constantly planning ahead and evaluating both where we want to be, and how we will get there. In order to fulfill our core purpose, vision, mission and values we took a comprehensive look at our staff and are happy to announce some role shifting and additions over the past few months.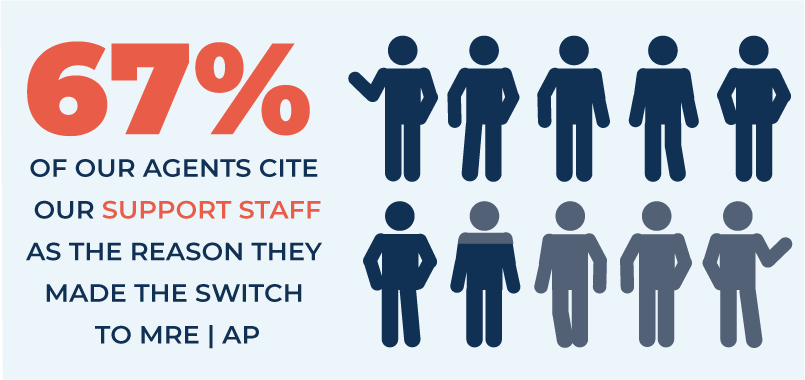 In the fall of 2021, Josh Beall, our West Virginia Principal Broker, earned his Maryland Broker license, bringing MRE | AP coverage to three states. Shayla Body began the transition to a part-time role as our Design & Brand Specialist. Stephanie Miller, who joined us as a REALTOR® in 2020 and then as part of our marketing team and contract compliance in 2021, stepped into the Creative Director role. Alanna Nichols, REALTOR® recently earned an Associate Broker license, and stepped into a Contract Compliance role, in addition to serving her real estate clients.
The more recent months have been a bevy of changes. Not only have we implemented additional technology tools to boost our REALTORS® businesses, but our staff roles have also been shifting. John Showalter has left some of his marketing duties behind as his role as Technology & Agent Success Director continues to grow. Anna Inns, who joined us as an Accounting and Administrative Assistant, has moved into the newly created Community Manager position. In this role she will be managing our growing number of offices, as well as assisting John with agent care.
Nolan Badura joined us as our Accounting and Administrative Assistant to provide assistance to Jenny Janssen, Director of Finance & Compliance. Kevin Chung, REALTOR® has taken on the job of assisting Peter Pejacsevich, Principal Broker & Managing Partner and Scott Buzzelli, Associate Broker & Partner with clients, allowing Blake Showalter to focus more on her role as Operations & Client Relations Director. Paige Moorman, our latest addition, joins us as our Digital Communications Admin to cultivate our day-to-day social media presence.
We are honored to have curated this fine team of professionals who work from both our many office locations and remotely. Not every brokerage invests in a team that works behind the scenes to help agents build sustainable businesses, and lives that run a little more smoothly, but we believe in being simply the best, and it shows.
Are you interested in joining our team of agents? Click here to get the conversation started.
---