From the numbers we are seeing in the March 2022 Market Snapshot, it certainly looks like not only has the spring real estate market for 2022 sprung, but that it did some joyful skippity-do-da-ing down the street. Presumably, the strong market was fueled by the anticipation of the Federal Reserve meeting on March 15-16, which resulted in the first rate hike since 2018, with additional increases in store. Across the area, median list and sold prices were both mostly up, and days on market were down over February 2022. Compared to March 2021, median sold prices were up 8-15%, depending on the county. However, despite a 50% increase in new listings over February 2022, the inventory shortage continues with inventory down 14% over March 2021.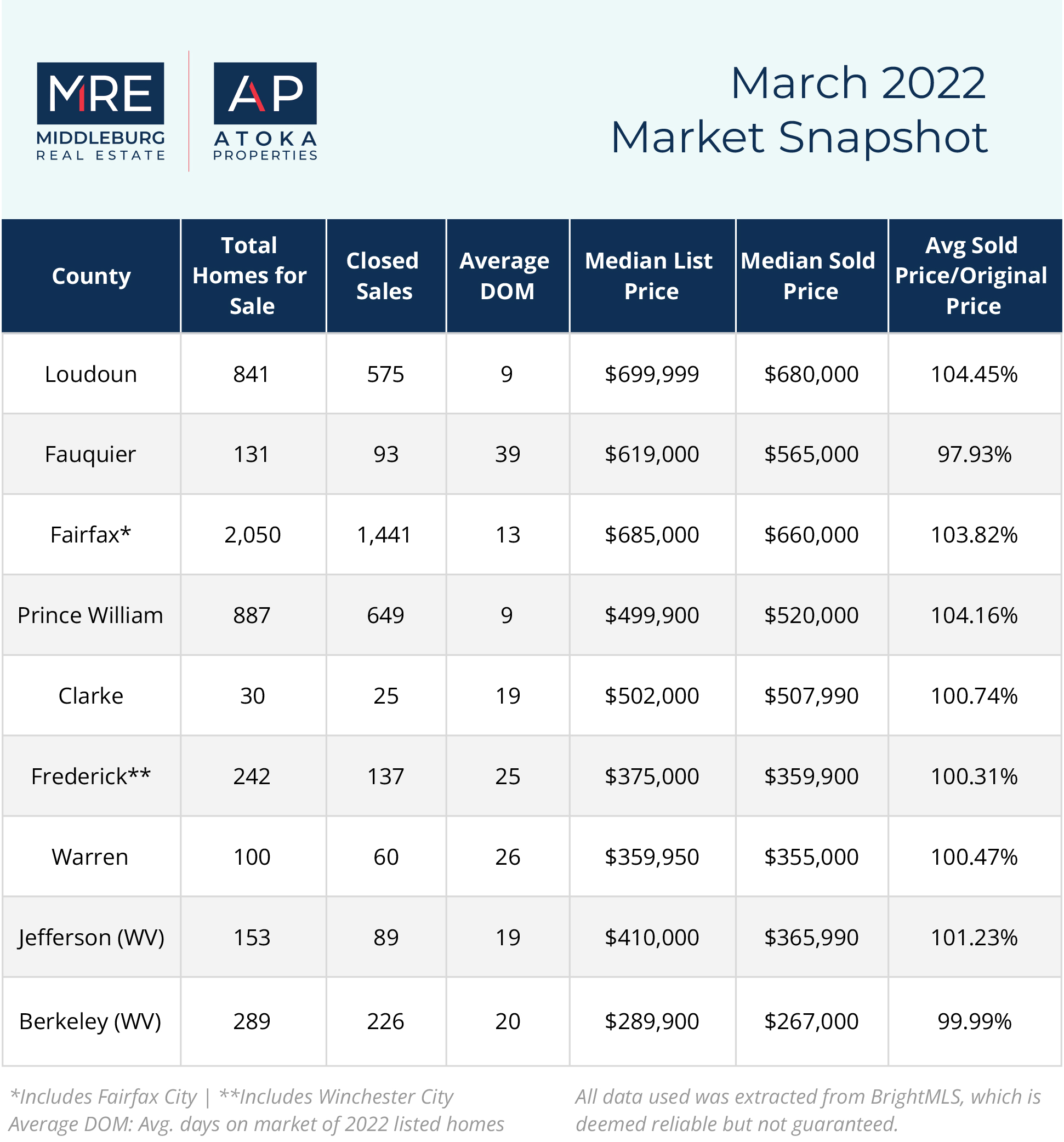 Here are the highlights:
The upward trend in median list prices is still here. The only dips in median list price were seen in Clarke (down $25,000, but as we know this is such a small market that just one or two listings can swing the pendulum significantly) and Berkeley (down $10,000). Frederick and Prince William were nearly unchanged over February 2022. Median list price over February 2022 was up in the remaining counties: Loudoun ($5,000), Warren ($10,000), Jefferson ($18,000), Fairfax ($35,000) and Fauquier ($71,000).

And, yes, the same applies to the median sold price. The only county that saw the median sold price fall over February 2022 was Frederick with a $22,000 decrease. There were small gains in Berkeley, Jefferson, and Warren with increases between $4,000 and $7,000, followed by Clarke at a bump of nearly $18,000. More significant swells between $45,000 and $65,000 happened in Fairfax, Loudoun, Prince William, and Fauquier in that order. On the high and low end of median sold prices compared to a year ago, Loudoun is up a whopping $104,900 (15.43%) and Berkeley is up a not insignificant $23,500 (8.8%) over March 2021.

Those homes were selling faster than in February 2021. With the exception of Fauquier and Frederick, across the area the days on market fell an average of 7 days. Notably, the average sold price/original price ratio is on the increase again over February 2022 showing us that there is still steep competition going on for the available inventory.
Bottom line:
Despite the recent rate hike, if you look at the big picture of rates over the past 15 years, buyers are still looking at great interest rates. (See Historical Mortgage Rates: Averages and Trends for a good look at the big picture.) However, with that interest rate increase comes a decrease in buying power. While it is still a seller's market with supply not meeting demand, some buyers may need to change price points, potentially letting others see some light at the end of the multiple-offer-search tunnel. If you are wondering if it makes more sense to buy now, or to "wait it out", this is where the advice of an experienced professional REALTOR® and a seasoned mortgage lender become the most valuable tools in determining the cost of waiting, whether you are thinking about buying or selling. Make an appointment to chat with both because, believe us, it will be well worth your time.
—
RELATED LINKS
Market Snapshot | February 2022

Market Snapshot | January 2022