It comes as no surprise that the metro DC area and our outlying areas saw the same continued rise in median home prices as the majority of the metropolitan areas in the first quarter of 2022. As predicted, the stats for April 2022 indicate that the rate hikes that began mid-March pushed a flurry of homebuying as buyers locked in rates, anticipating further changes. The most notable changes over March 2022 were the bump to an average of 102.77% for the sold price/original price ratio and a six-day drop in days on market across the area.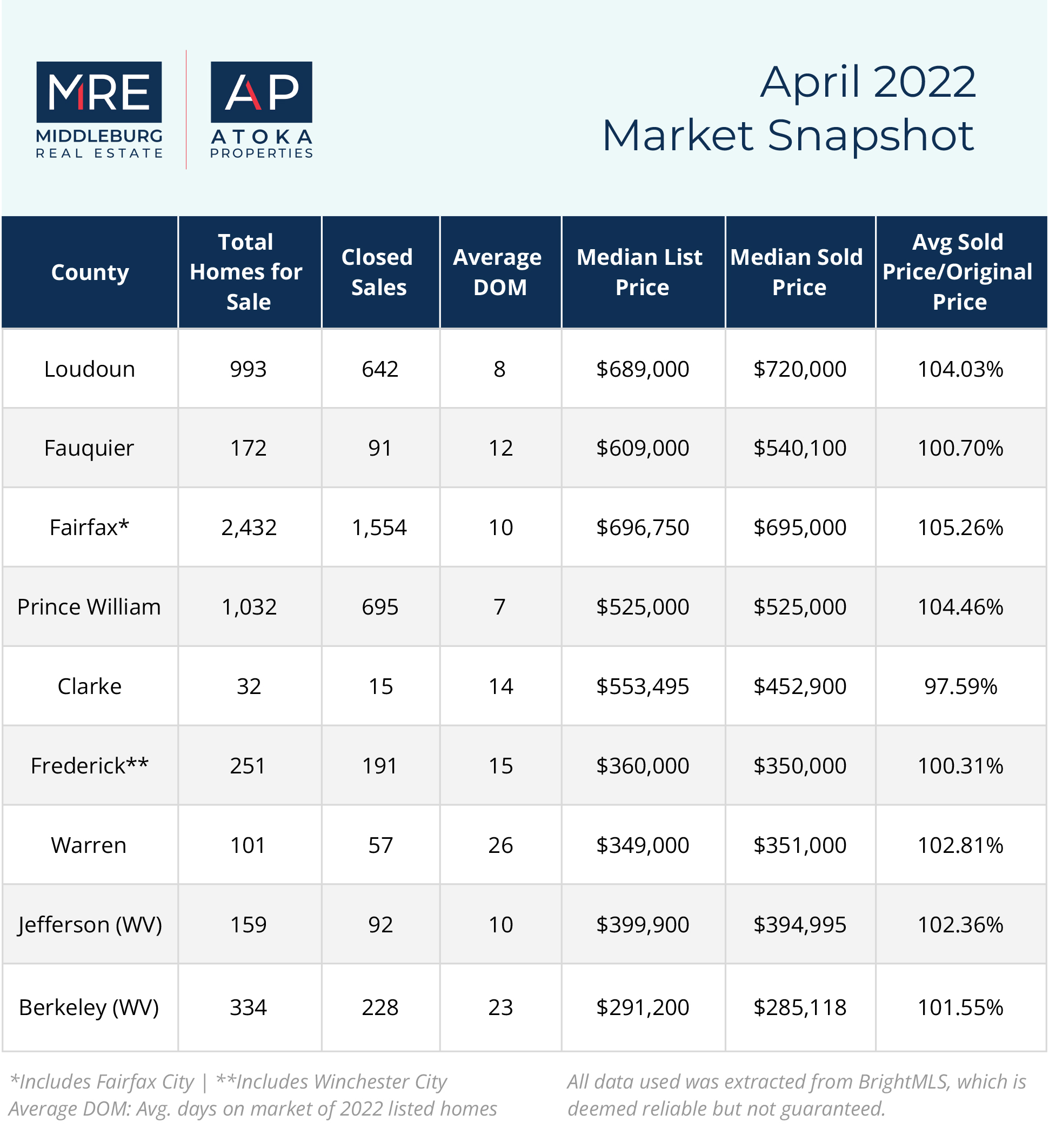 Here are the highlights:
Median list prices were nearly steady over March 2022 across the area. There were ups and downs across the counties, but the net effect was nearly zero at the slightest uptick of an average of $3,622. Median list prices were up in Clarke ($51,495), Prince William ($25,100), Fairfax ($11,750), and Berkeley ($1,300). By contrast median list prices were down by $10,000 to $15,000 in Loudoun, Fauquier, Frederick, Warren, and Jefferson.

Median sold prices across the area are substantially more than they were in April 2021. However, there was little change over March 2022 with the average median sold price up just $3,693. Loudoun had the biggest jump over the last year and continued the upward trend another $40,000, bringing the median home price to $720,000 vs $602,250 in April 2021. Fairfax ($35,000), Jefferson ($29,005), Berkeley ($18,118), and Prince William ($5,000) also saw increases over March 2022. Negating that rise were decreases in median sold prices in Clarke (-$55,000), Fauquier (-24,900), Frederick (-$9,900), and Warren (-$4,000).

The few homes that were on the market didn't sit for very long. There were only about 5,500 homes on the market across nine counties in April 2022 (nearly identical to March 2022). Those went under contract quickly as evidenced by the number of days on market dropping everywhere, with the exception of Berkeley. The increase of average sold price/original price, the percent of asking price sellers got for that limited inventory, jumped and now sits between 100% and 105% everywhere except in Clarke.
Bottom line:
The increase in mortgage interest rates that happened mid-March gave the April market a nudge as buyers with locked in rates moved quickly to purchase. However, we did see the beginning of a cooling off in rise of median list and sold prices. Only time will tell if it has the desired effect of bringing down inflation rates and we look forward to seeing what happens in May as the full effect of the rate adjustments kick into place. Are you prepared to navigate the changing waters of this real estate market? The advice of an experienced professional REALTOR® and a seasoned mortgage lender are your most valuable tools in creating a plan for success in this market.
—
RELATED LINKS
Market Snapshot | February 2022