Why People Love Leesburg
Somehow Leesburg pulls off a captivating hometown feel while still resting at the center of the Northern Virginian hype. Perhaps it's the staple family business on Main Street that keep this town happy and thriving, or the small farms and vineyards that surround its borders. Either way, we think Leesburg is one of the best places to raise a family.
With the booming D.C. economy within arm's reach, and rural farmland at easy access, there's really no better place to call home. It's a great location for those looking for bigger occupational opportunities, but still want to remain country at heart. It's a wonderful place that many go to live out their American dream.
Neighborhoods We Love
Everybody adores our historic downtown! If you're charmed by the idea of walking to the grocery store or jogging to the nearest coffee shop, this is the spot for you. Crescent Place features cute luxury townhouses right in the heart of Leesburg. The homes in this development tend to be most loved by smaller families. For newlyweds as well, Crescent is a wonderful place to start a life together.
is a prestigious golfing neighborhood situated just between Leesburg and the Potomac river. Each home sits on an acre or more of property and many look out toward the lush greenery of what's considered one of Virginia's finest golf courses. Raspberry falls is only a few miles from White's Ferry, the last of 100 ferries that regularly crosses the Potomac river. Residents also have access to neighborhood amenities like a pool, tennis courts, and obviously the tremendous golfing scene.
At the foothills of the Catoctin Mountains, Woodlea Manor is one of our favorite neighborhoods. Its tight-knit community, beautiful views, and colonial style homes, and close proximity to the heart of Leesburg, make it a special place to settle down. This community has some of the most sought after pools in the area, plus tennis courts, golf, and a clubhouse.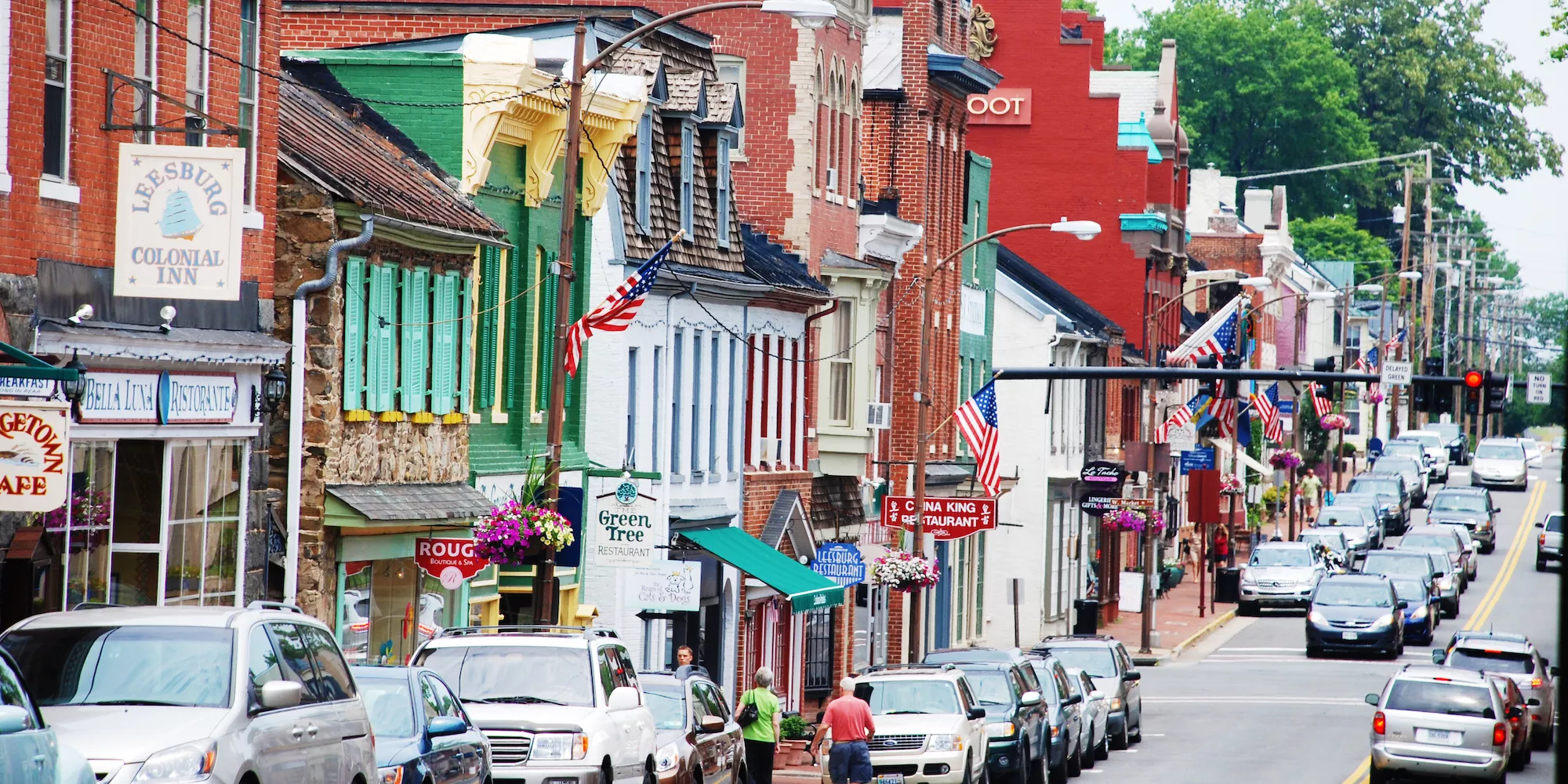 Outdoor Entertainment
Who doesn't love a walk downtown? Historic Leesburg is a nice break from its surrounding suburban communities. Although there are numerous opportunities for shopping and fine dining, Leesburg still hints to the rural farming town it once was. You can learn a lot about its prolific history by visiting the Thomas Balch Library and Loudoun Museum. Don't forget to drop in and visit us at our Atoka Properties location!
Is there a better way to spend a Saturday than strolling through tables of farm fresh produce? Probably not. That's why we love the Leesburg Farmer's Market. It's full of farm fresh fruits and vegetables grown and raised right here in Loudoun County, it's open to customers every Saturday year-round. You can find a list of season vendors on the Leesburg Farmer's Market webpage.
Zephaniah Farm provides a wine tasting experience equal to none. It's located on the grounds a third-generation farm and run by the beautiful Hatch family. In a charming and homey atmosphere, they invite you to taste Virginia wine made on-site and experience some rich family history. There's garden seating open during the warmer months, spots for picnicking outside, and tours of the vineyards available.
It's a much needed dose of Virginia countryside in the middle of suburban D.C. Morven Park occupies over 1,000 acres, and has three beautiful museums on-site. There's multiple sports fields, equestrian events, and trails for running and biking. The picturesque scenery and incredible mansion view could be just the therapy you need to make it through the busy work week. Events are often hosted here, too, so you and your family won't be lacking in fun things to do.
The Animal Park is a fun and interactive zoo full of cuddly critters and hands-on education for the whole family. In addition to the exhibits, Leesburg Animal Park has pony and wagon rides, arts and crafts, and live animal shows. They hold special events over the holidays, like Pumpkin and Christmas village, and have special zoo keeper day camps for kids ages 6-10 in the summertime.
Dining & Night Life
You can't drive down Market Street and not try out these delicious gourmet cheeseburgers. Seriously, Melt's burgers are rated seventh best in the USA and they live up to their title! They're considered the best cheeseburgers in Loudoun County and have a 4.5 star rating in Trip Advisor. Burger buns are handmade on-site, and the burgers themselves are grilled in front of your eyes. Melt is also known for its decadent baked goods and chocolates—and don't forget their choice of seafood and bison burgers!
Cultured creates superb modern dishes from locally sourced ingredients. On their menu can be found everything from house soups and sandwiches to different varieties of toast! They're also a healthier (and tastier!) rendition of the American frozen yogurt scene. Cultured's farm fresh meals appeal to vegan and vegetarian consumers, as well as people with food sensitivities.
What's not to love about pie? Even better, Mom's Apple Pie creates their pastries from the ground up. They grow many of their own fruits and hand mix all of their pies. They also host CSA on site for their partner, Lost Corner Farm. Whether it's pies, cookies, or breads, Mom's Apple Pie is the place to go for the sweetest baked goods.
The best of Leesburg's fine dining. There aren't enough good things to say about the French Hound Brasserie. Experience the luxury of Northern Virginia and the distinguished taste of France all in one. Oh là là!
Browse listings for "Leesburg"