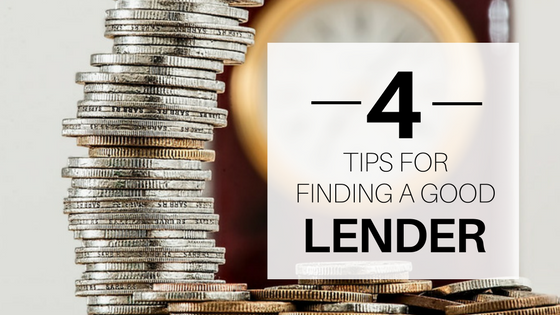 There is no doubt buying a home is a rewarding and fantastic experience! To make your home buying process as great as it could and should be, having a caring and competent mortgage lender that has your financial desires top-of-mind will make a world of difference. But how do you go about finding that person? Start with these 4 Tips for Finding a Great Mortgage Lender.
1. Get your credit score in shape.
When determining your qualifications for a loan, lenders like to see high credit scores from potential clients. The higher your score, the more bargaining power you'll have. In order to be prepared, get your scores from each of the 3 major credit bureaus: Equifax, Experian and TransUnion. Pay off high-interest debts and make all your payments on time. Then, when you go in to your mortgage lender for approval, there won't be any surprises and you'll know where you stand.
2. Compare rates from several mortgage lenders.
Comparing mortgage rates can take some time and research, but it's well worth the effort. Scour the internet for all the information you can find. Keep in mind that these rates are a starting point, and often the best case scenario. Even when you apply for a quote, this is still not a guarantee - but it's a great starting point. Compare your quotes side by side and decide what will be best for you, then use it as a bargaining chip to negotiate better rates.
3. Ask the right questions.
As with REALTORS®, it's a great idea to ask friends and family for referrals when it comes to lenders. Since most of them are currently paying a mortgage, you are bound to have numerous options. Once you've narrowed the playing field, ask each lender the following questions:
What is your company's preferred mode of communication?
How long does your process take?
What fees will I be responsible for at closing? What options are there for paying for these?
What are your down payment options and requirements?
The answers to these questions will help you find the perfect fit.
4. Read the fine print.
Principal and interest payments aren't the only costs involved with owning a home. Ask your lender about other costs such as estimated closing costs, points, loan origination fees and transaction fees — and ask what each includes. If you are unsure of something, don't be afraid to ask. Better to have too much information than to be surprised later on when it's too late. And when it comes to signing any paperwork, read everything. Your loan documents will include all pertinent information and important details you should know moving forward.
We know buying a home is most likely the largest investment you will ever make; it's natural to take time to choose the perfect mortgage lender. It will be time well spent-trust us!
If you'd like to contact an agent or learn more about how they can meet your needs at this time in your home buying process, let us know!